Having just taken a drink from a little faucet in the middle of the street and wandering aimlessly around Venice, I stumbled into the small church of St. Zaccharia. I had not planned to visit, but just saw it on my way and decided to "give it a go."
Walking around, I saw the large altar and the precious artwork from the 17th and 18th centuries. I saw the tomb of St. Zachariah, father of St. John the Baptist, which happened to be in the church. I was introducing myself to the sacristan of the church (in my broken, barely existent Italian) when I noticed another side altar with a large glass coffin. I go over to look a bit closer - "Oh, hello there!"
I turn to the sacristan and, pointing, try to ask, "The Athanasius from Egypt?" He looks puzzled and points to the sign, which says, rather clearly, "St. Athanasius, Patriarch of Alexandria" (in Italian and Latin, of course). Duh. I just had a face-to-face encounter with one of the most important figures in the history of the Catholic Church, a man who (more-or-less) single-handedly put an end to the Arian heresy - the most significant heresy the Church has ever had to face. And I just ran into him on the street.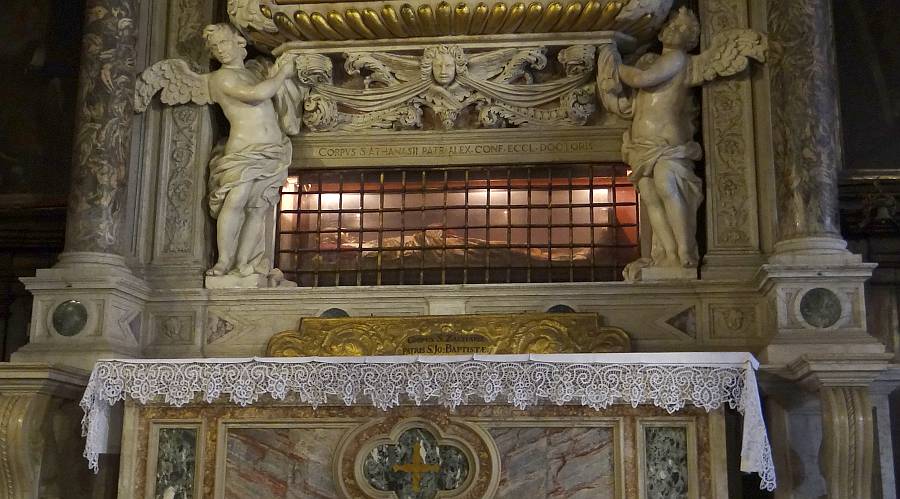 Spending the summer in Germany and other places in Europe, I stumbled across relics of all sorts - the loincloth of Christ (Aachen Cathedral), various relics of St. Edith Stein, an Eucharistic miracle called the Wundergut (Augsburg), bodies of apostles, bones of the three kings who visited the Christ-child (Cologne), and even more.
One reaction might be to see this as a whole bunch of pious prattle (or rattle, as the case may be) - "Who cares?" My reaction was exactly the opposite. "Who doesn't care?" If I put my hand on the tomb of St. Mark, I have prayed with the same man who declared, roaring like a lion, "This is the beginning of the Gospel of Jesus Christ, the Son of God." If I kneel next to the sarcophagus of St. Albert the Great, I stand right next to one of the greatest scientists the world has known. When you can do that, you realize very clearly that these people were real.
Each town in Germany and Italy has at least two or three saints who are just "neighborhood" folks to people who lived there. You find "big" saints, like Boniface or Dominic, and "small" saints, like Ansgar, Afra, and Pirmin. You find bishops, religious, lay people, and everyone in between. You find their clothes, their writing desks, their bones, and their houses. You find them here, there, on the corner, in your neighbor's backyard, in the parish church, and across from the town hall.
And that's the point: A saint is one of us.
This was made very real in the most visible way possible, one that brought me very much to tears, when I visited Bologna.
Bologna, Italy is the site where St. Dominic de Guzman, founder of the Order of Friars Preachers, died. I visited that medieval city for the feast of St. Dominic in August.
I was shown my room in the priory when I arrived and had another "Oh, hi there!" experience when, on leaving my room, I opened the door next to mine. Inside was a small chapel with an altar. I asked a brother later what that room was about.
"Oh, that's St. Dominic's cell. He lived there when he was here, and he died in that room. Did you look behind the curtain?"
"What curtain?"
"Ok, I'll show you after dinner."
Later, I was shown behind the curtain - there were St. Dominic's belt, his table knife, and his breviary.
But it didn't end there.
I spent the morning praying in the church, where St. Dominic is buried in a massive marble tomb in a marvelously painted side chapel. While praying, another brother comes and asks me to help him. I am to be in the procession for the feast day, he tells me, and I needed to help "load up" the processional float with the relic of St. Dominic's skull.
In a few minutes, I'm holding the head of St. Dominic in my hands.
I was not expecting that.
But when you hold the head of a saint in your own two hands, you have, I think, a different relationship with that person. St. Dominic was real and he is there, right in my hands.
Even more so, he's alive.
I made a prayer then and later as I was in the procession with the relics. I prayed for myself, my family, the Order, the Church, people I liked and didn't like, people who didn't believe in God - that St. Dominic pray for them all.
After the feast, I immediately had to head back to Germany. I couldn't help but think, as I knelt for the last time in front of that beautiful tomb, about the last words of St. Dominic to his brothers, spoken in the room just a few feet away. It was almost as if I could hear them being spoken aloud:
"I shall be more useful to you where I am now going, than I have ever been in this life."