Where did subsidiarity come from?  The Church started talking about subsidiarity in the 19th century.  'Old?'  Sure, if you're an American.  The 1940's are 'old' for us.  But the 1840's?   That's very recent for the Church.  So why then?  What happened in the 1800's?  The Industrial Revolution.
I thought the 1800's were boring.  My textbook had a bunch of paintings of grimy, dirty cities and fiery factories.  Bo-ring!  Well… I've matured.  A little.
(This is what I thought the 19th century looked like)
The Gun Foundry (1867), by John Ferguson Meir
Turns out the 19th century was important.  See, human beings have always invented tools, found ways of doing less work, doing it faster, and more efficiently.  Without getting too detailed, the Industrial Revolution radically changed Western society – and the world – by unleashing industrial methods of production.  More things were made with less work.
So what?  Well, where are you going to put these factories?  You need workers… and there are more people in a city than in the rolling hills and large farms.  Western cities had been growing since the 12th century, but producing things outside cities, often by individual workers was still pretty significant in the West (Europe and the Americas).  Then… came the machines.
(I still haven't seen the 3rd movie)
scene from Matrix: Revolutions (2003)
 
No, not those machines.  Well, maybe it felt like that for some people.  Planting and harvesting wheat, raising cows and chickens, making fabric for clothes and linens were all done by workers with simple machines.
But that's okay, because lots of machines hadn't been invented yet.  Then people got creative.  There were new ways of making metal – steel – stronger.  A lot more metal could be made at a lower cost than before.  Machines are created which do a faster job than men… or women could.
Again… so what?  The point of that history/economic lesson that would make a history or economics major cringe: society dramatically changed in the 19th century.  Society = connections between people.  Cities boomed because that's where work was found.  The transition wasn't always pretty: you didn't move to Chicago because they had cheap lofts and a great nightlife.
As Br. Jude illustrated in our super-cool video (shot by me.  It was strenuous work), groups that previously existed in Western society disappeared.  Groups of craftsmen, who could help each other out… were no more!  These out-of-work people had to find new ways of supporting themselves.
How could the Church help them out?  Feed and clothe them, of course… but how is important, too.  Who is responsible?  (The end, goal, isn't the only thing that matters.  How you achieve that goal is important.  IOW, the ends do not justify the means.)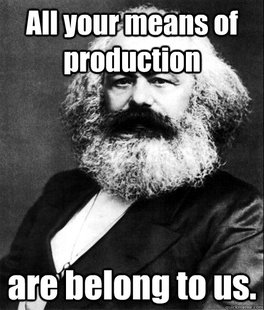 (Beards were 'in' for most of the 19th century, even for revolutionaries)
Karl Marx (1818-1883)
Some, like Marx, Engels, communists, and socialists advocated violent rebellion to improve the lives of the workers, and an "absolute state" that would provide for all the needs of the people.  Wilhelm Emmanuel von Ketteler, the Archbishop of Mainz, was very concerned the many laborers in the cities, but his approach was very different from Marx's. 
(Like a boss)
Archbishop Wilhelm Emmanuel von Ketteler (1811-1877) of Mainz (1850-77)
Ketteler believed capitalism wasn't going anywhere, and the Church had a responsibility to work within capitalism to find solutions to social problems.  Communists went too far: the state was responsible for doing things smaller groups couldn't do.  It wasn't responsible for everything.  Individual workers, families, unions, and wealthy citizens each had responsibilities to fulfill.  The state could help these smaller institutions, but not take over what rightfully belonged to these groups.
Think of it as a son complaining to his dad about math homework.   Dad could give his son the answers for him, or he could explain and teach him so his son could learn on his own.  Larger groups are also effective at doing things individuals alone cannot: think of a movie scene where the hero is hopelessly outnumbered against a greater enemy… until reinforcements come in and save the day.
(Massive army: great for crushing other armies, not so great for governing a republic)
scene from Lord of the Rings: The Two Towers (2002)
These two ideas became known as 'subsidiarity': no larger institution (including the state) should do what a smaller institution can accomplish, and a larger institution has an obligation to do what a small institution can't.  The foundation of subsidiarity is the individual.  Every institution exists for the individual human person, whether to help him fulfill his responsibilities or aid him in doing what he cannot.